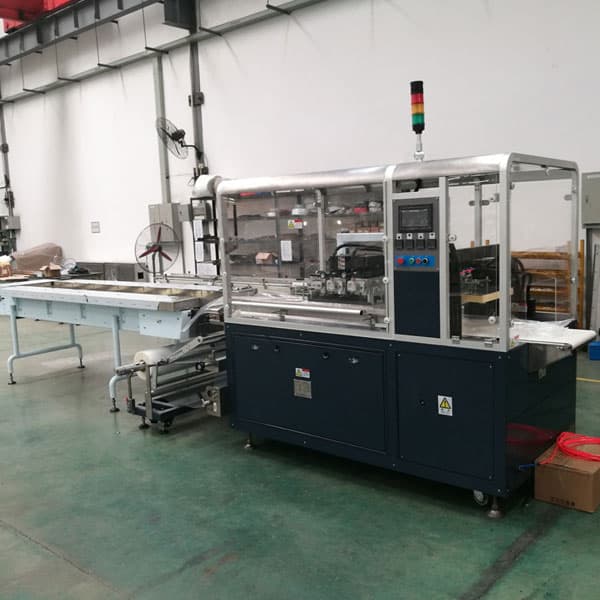 Vegetable Packaging Machine
Vegetable packaging machine is a simple wrapping and sealing machine for packing vegetalbes in plastic bag,such as Lettuce, Spinach,Carrot, Eggplant,Shallot etc., Film inverted feeding type, Servo driven technology,  Bag length can be automatic adjusted according to vegetables length.
---

Maximum Speed:             Bag Size:
70 bags/min            Length: 150-999mm
                                   Width: 350mm
                                   Height: 30-140mm
---
Fast vegetable packaging process
In supermarket, vegetables are normally packed in plastic bag and kept in refrigeration. Somtimes, they were wrapped by PE stretched film manually, but quite low efficiency.  Here is a fast way for vegetable packaging process by packaging machine, vegetables are put on infeed conveyor by hand, machine wraps products into plastic bags continousely, one step to wrap different size vegetables, no need manual set bag length,  The good choice for vegetables high efficiency packaging for supermarket and farm.
Vegetable packaging machine introduction and price
This machine is film bottom fed type, vegetables are loaded upon film directly then carried to pack, which can  decrease the friction damage during feeding as well as to keep products original shape, Machine can self adjust bag length according to product length during running, mainly used in supermarket for packing vegetables as Lettuce, Spinach, Carrot, Eggplant, Shallot, Mushroon etc.,
Vegetable packing machine price is around USD18000.00-25000.00/SET based on different configurations
Question 1: Does this machine can wrap different length vegetables automatically?
Answer: Yes, our vegetable packaging machine adopts high sensitive sensor tracking system, machine can automatic adjust bag length according to product size during operation, no product, no packing.
Question 2: Do you have machine for family pack and carton packaging for vegetables?
Answer: Yes, we have relevant machines, please list your packaging request for family pack and check carton packaging machines 
here.
Question 3: What is vegetable packaging film material, where to buy this film?
Answer: Vegetable packaging film is requested for food grade, hot sealable type, we suggest double laminated film, OPP with CPP material, thickness 30-40 micrometers, because the consumbale material, it is better for you to find a film supplier locally,  if you do need such service, can contact us for help.
Contact us by email: [email protected], if you have further questions for vegetable packaging.
Vegetable Packaging Machine Video
Have doubts for how to select the best suitable packaging machine for your project?
Or check this article>>.